Freaky Friday
Challenge # 6
Over at Forever Night Challenges.
Too Cute To Spook
This weeks challenge is to create a project that is just too cute to spook!
I used
Punk Lolly
and I decided to make a cover for a small Scrapbook for my Daughter Jazmine. I didn't have time to finish the whole album so I just made the cover to it and will add more later and add a ring to
told it all together.
Our Sponsor for today's challenge is...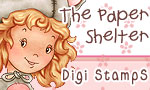 Paper Shelter
"

If you are looking for fun, cute and lovely digi stamps for your paper-crafting or web design projects, The Paper Shelter is your one-stop boutique! This growing catalog of high-quality digi stamps with many different kind of options offers a multitude of themes such as everyday items, holidays, special occasions, children, adorable characters and creatures. Stamps are available in standard black and white line art, as well as in pe-colored format.

Images are wonderful for coloring and make perfect additions to greeting cards and scrapbook albums

."
Winner of this Challenge will receive a $ 15.00 Gift Certificate from the
Paper Shelter.
GO
HERE
to see more from our DT.